Toontrack EZdrummer v1.1.0 Update VSTi AU PC MAC OSX UB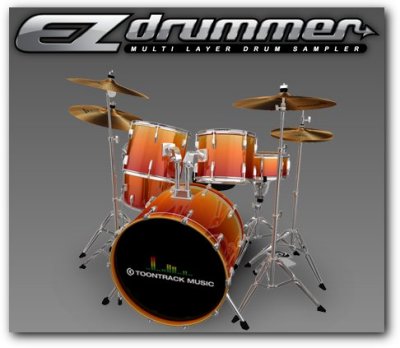 Last updating Toontrack EZdrummer.
All added tools are reproduced.
dfh EZdrummer is a multi-microphone drum sampler designed for musicians and producers in need of a compact,
affordable, easy to handle plug-in without compromising sound quality or control.
This is the Toontrack EZdrummer v1.1.0 Update for PC and Mac. As with the last update (v1.0.4) this
includes Mac Intel (Universal Binary) support.
The RAR file will extract to the following three original Toontrack website download files:
- EZDrummer_XP_110.zip
- EZDrummer_MAC_110.dmg
- EZMulti_Templates.zip
RELEASE NOTES
EZdrummer 1.1 introduces new functionalities as well as providing essential bug fixes for all users and
compatibility for the recently announced EZX-s.
It is required for the Nashville EZX but is otherwise highly recommended for all users. EZdrummer 1.1 is
available for both Intel Mac and PC in VST, AU and RTAS.
New in EZdrummer 1.1.0
- User mixer presets containing pan, volume and bleed settings can now be saved
- Half/double tempo switch allows to preview grooves as half time/double time variants
- The position in the groove is now indicated by a blue pointer under the text in the display
- New graphics and scrollbar for MIDI browser allowing unlimited levels to be accessed
- Velocity sweep controls can now be set at 255 different values (doubling resolution)
Fixed in version 1.1.0
- Crashes when EZXs were changed faster than the graphics was drawn fixed
- Changing drum after closing and reopening GUI no longer causes host to crash
- Attempt at fixing a rare problem with the mixer closing x button
- Progress bar is no longer left empty if GUI is opened after the entire bank has loaded
- Minor alterations of MIDI syncing while host transport is running
- MIDI loops with NoteOffs events on the one of the next bar should now loop properly
- semiseq is disabled for softer gradients if the step to the next hit is greater than 6dB
- Leading spaces in an authorization code are now tolerated allowing ruthless copy pasting
- Copy protection more robust in relation to unconvential hardware configurations
Known bugs in 1.1.0
- help menu gives access to EZdrummer 1.0 documentation
Known issues with hosts
- Acid 5: warning message on opening project due to caching of dnd temp files
- Acid 6: first note event may be ignored after dnd to host requiring manual extension of clip
- DP 4.1: internal player cannot sync to project tempo (MAS AU support limitation)
- GarageBand 2/3: audio engine has to be started before sounds can be heard
- Logic 7: audio engine has to be started before outputs can be captured to Aux
- Samplitude 8: loss of MIDI timing after drag and drop (fixed in Samplitude 8.3)
- ProTools 7.x: graphical issues when swapping EZX in PT under XP
- Sonar 4-5: sequence/name meta event is not used therefore clip has no label
- Sonar 4-5: sample loading requires opening GUI
Also included here, the original EZdrummer v1.0 ISO, which may be necessary for this update, default
installation.
DOWNLOAD: (only for Musician & Moderator Group)