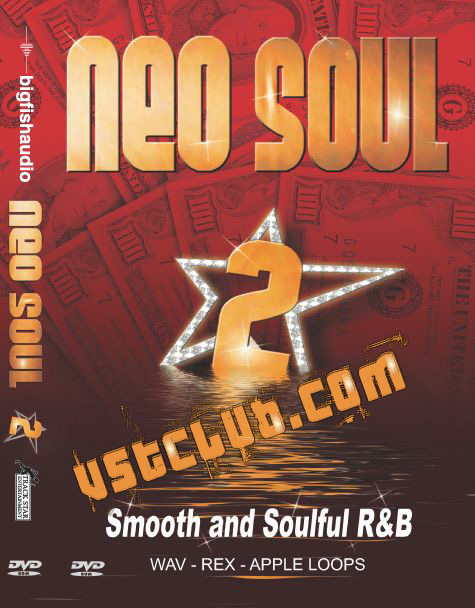 "This is the real deal: Shaft, Barry White, the 70s, ...the occasional Minimoog, Fender Rhodes all presented for your pleasure (and I do mean pleasure, baby) in the form of 55 construction kits. "
Neo Soul 2 is the second installment of the smoothest soul music yo've ever heard. Veteran producer and composer Josquin des Pres teams up with multi-talented newcomer Brett Michael Wiesman to deliver the second installment of the critically acclaimed bestseller "Neo Soul". Reminiscent of old school R&B and 70s funk, combined with today's hottest grooves, Neo Soul 2 reunites a host of top notch players: Carl Evans on keyboards (Stevie Wonder, Barry White), David Stark on guitar (Rick James, Teena Marie), Tommy Aros on percussion (Luis Miguel), Chris Klich on horns and flutes, Josquin des Pres on bass and Michael Evans on drums. Whether you're a DJ, remixer, producer, songwriter, sound designer, rapper or singer, Neo Soul 2 is a rich musical palette of compositions that goes far beyond just basic beats, it's a comprehensive work tool that will enhance the sound libraries of music creators at any level. With plenty of material in AIFF/Apple Loops/REX/WAV, this follow-up is sure to inspire some serious hits.
Price $99.95
INFO: HERE
The second installment of the smoothest soul music you've ever heard.
Over 3 GB of loops and samples (1.65 GB in WAV format)
55 construction kits with tempos ranging from 51 to 137 BPM
Construction kit contains a main mix (except in REX) plus each element broken out as individual loops
Each construction kit has 'One Shot' folder containing drum/percussion samples from the kit
Instruments include:
Drums
Guitars
Congas
Bass
Rhodes
Flutes
Moog
Strings
Sax
Fx
Percussion
Organ
Keys
Wurlitzer and more...
Download: (only for Musician & Moderator Group)
Ueberschall - Drum'n'Bass Fast Forward
Ueberschall Drum n Bass Fast Forward
Ueberschall Drum n Bass Fast Forward is the next level of drum&bass, following the successful CDs "resonance" & "flashtracks". This complete package contains fresh new construction-kits that will satisfy every wish, from hard electronic cuts to funky disco kits to jazzy club tracks. Plus additional material: drum loops, bass licks, fx loops, single sounds and more. Ueberschall Drum n Bass Fast Forward is a must for every d&b producer. All sounds are also in WAV format on CD2.
Ueberschall Drum n Bass Fast Forward Features:
-Audio, WAV files
-24 Construction Kits
-668 total wav files
-Drumloops
-Pads
-FX
-Percussion
-Bass
-Single Drum Sounds
Ueberschall Drum n Bass Fast Forward Compatibility:
-Acid
-Adobe Audition
-Akai MPC1000
-Akai MPC2000
-Akai MPC2500
-Akai MPC4000
-Akai S1000
-Akai S2000-3000
-Akai S5000-6000
-Akai Z4-Z8
-Audio CD Player
-Battery
-Cubase
-Digital Performer
-Drumcore
-Emu Emulator X2
-EXS24
-FL Studio
-GigaStudio
-HALion
-INTAKT
-Kontakt
-Korg Oasys
-Korg Triton
-Live
-LM4
-Logic
-MachFive
-Nuendo
-ProTools
-Recycle
-Roland Fantom X-Series
-Roland V-Synth
-Roland VariOS
-SampleCell
-SampleTank
-Software that can extract files from an Audio CD
-Sonar
-Soundtrack
-VSampler DXi
-Yamaha A3000
-Yamaha A4000
-Yamaha A5000
-Yamaha Motif
Format: AUDIO/WAV/Acid
Price: 87.00 Euro
Download: (only for Musician & Moderator Group)
Ueberschall - Easy Listening (AUDIO)
Germany's Ueberschall company provides a lightweight treat with a series of tracks that wouldn't disgrace one of Austin Powers' swinging parties. Whoever put this little lot together must have had a lot of fun doing it. Apparently the loops were "played live and recorded using old studio technology exclusively, in order to maintain the charm of those unforgettable times. However, a few of the tracks are marred by the odd vocal sample from a deep-voiced Serge Gainsbourg type. Rhodes, organ, vibes and brass are all featured very heavily with the occasional appearance of a sitar signalling the smell of certain illicit substances at the party!
Download: (only for Musician & Moderator Group)
Ueberschall - Drumskills (AUDIO)
Probably one of the finest live real drums sampling CDs ever. Extra long takes in various styles (R'n'B, Funk, Soul, Hip Hop, Drum'n'Bass, Latin, Bossa, Samba, Jazz and Rare groove), made to satisfy you. Soft with brushes through to heavy pounding. Tons of Grooves, Patterns, Phrases, Breaks & Beats of the highest quality. Give your tracks a fresh live and human drum feel. Just load the real thing into your sampler or harddisk-recorder and experience the huge difference.If you're into real live drums, you can't do without "drumskills".
Download: (only for Musician & Moderator Group)
Ueberschall - Eurodance (AUDIO/WAV)
Control the charts with the freshest, professional sound material! top 30 construction kits for dancefloor producers. energizing drumloops, party licks, male & female voices, floating dream-pads, endless stabrooms, tranceformed breaks n rolls plus chartproofed singlesounds (only wav!) - everything for an ultimate chart-breaker. enjoy & get the number one position. mix your own dance hit!
Download: (only for Musician & Moderator Group)
Ueberschall - House Essentials
Ueberschall presents House Essentials, a new masterpiece for House music production containing more than 2500 fresh samples. Drumloops, drum sounds, bass sounds, funky licks, brass & string sounds, vocals & effects. Doug Laurent and top remixer Risque (Gloria Gaynor, Jocelyn Brown, 54, Deskee, Fab, Foundation) opened up their exclusive archives- the essential standard for any house and dance producer!
This is a 2 CD Set, 1 Audio, 1 WAV.
Download: (only for Musician & Moderator Group)
Big Fish Audio - Found Percussion MULTIFORMAT
Big Fish Audio has released Found Percussion, a new sample library described with this simple catchphrase : "In kitchens, garages and back yards everywhere, everyday objects lie waiting to be turned into percussion instruments."
There are 85 construction kits of unique and quirky percussion material, using 'found' instruments such as wine bottles, air conditioning ducts, coffee cans, electric fans, welding rods, slack bass strings, suitcases, everything, including the kitchen sink!
Contents :
- 6.16 GB (2.47 GB WAV Files)
- 85 Construction kits in 3 formats
- 2151 Loops in 3 formats
- Format: Apple Loops/REX/WAV/RMX/Acid
Download: (only for Musician & Moderator Group)
Puremagnetik.MICROPAK.Metalsphere.MULTiFORMAT.SCD- AMPLiFYiSO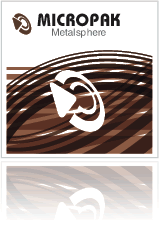 REL-DATE..: 08.05.2008
Metalsphere is a powerful sound design toolbox of intense
soundscapes, suspenseful textures and horrific
environments. Conveniently packaged into 2 multisampled
menus of the most nightmarish proportions, Metalsphere
contains a huge array of sonic possibilities.
Easy Tweaking
The Ableton Live and Kontakt versions contain easy sound
shaping controls to morph between signal sources. The
Kontakt version includes customized KSP menus for easy
access to filters and amplitude envelopes. The Ableton Live
version is preprogrammed with effect macros and advanced
Live Rack controls.
Enormous Sound
Each version of Metalsphere includes multilayered menus
with sounds that were constructed to go together. Browse
for the sound with instant access up and down the keyboard,
then alter it with the extensive range of controls.
Huge Tonal Palette
Four completely different sound sources deliver a huge
range of possibilities for sound design. Controlling levels
across the patches provides for an almost infinite palette
of sounds.
Modular Components
Metalsphere for Ableton Live and Logic contains individual
"modules" for layering sounds. Each module comes from a
completely different sound source and can be layered
together or individually. Load up only the needed modules
or combine multiple modules for a huge sound.
System Requirements:
Requires Ableton Live 7, Logic 8 or Kontakt 3
500 MB of physical RAM
1 Gigabyte (GB) of free hard disk space
Download: (only for Musician & Moderator Group)
Pettinhouse DirectBass For Kontakt SCD - AMPLiFYiSO
Specifications:
DirectBass is an innovative 5 string bass sample library
for NI Kontakt 2.2 that includes all the bass pickups.
4 Gb recorded at 24 bit 96 Khz directly to the sound card
without any amplifiers and efx.
Combined with amp simulators it allows users to create an
infinite number of bass sounds.
5 articulations, 5 strings, 3 pickups ( Bridge,
Bridge+Neck, Neck ) plus another picked bass were sampled
for covering the entire range of bass styles.
Each articulation is about 1 Gb and it includes 3 layers
and 4 samples for each note in round robin. It means that
anytime you press a key it plays four different samples
avoiding the typical "machine gun" effect.
All the samples were recorded taking care to capture the
entire sustain and natural decay for unmatched realism.
It is the perfect complement for studios and live
performances.
Articulations:
Bridge Pickup
Crispy sound rich of mid tones perfect for Funk, House
Bridge + Neck Pickup
This standard sound used in the æ90s is for all kind of
music but especially for Fusion, Pop, House, Funk.
Neck Pickup
Woody sound typical of the æ70s perfect for Disco, æ70s
funk and rock.
Picked Neck
Crunchy sound for Rock and Metal
Sustained picked neck
Top Features:
- 1860 unique samples
- 4 samples and 3 layers for each key ( round robin )
played with index and middle finger.
- Release samples for each note.
- Slides and stops for each string
iNSTALL nOTES
1. Unpack
2. Try
3. Buy the stuff if you like it and use it
Price: $99 - €74
Download: (only for Musician & Moderator Group)
Pettinhouse DirectGuitar 2.1 For Kontakt SCD - AMPLiFYiSO
http://www.pettinhouse.com/html/directguitar.html
DirectGuitar 2.1 is an innovative 9Gb electric guitar
sample library
for NI Kontakt 2-3
directly recorded for a amp simulator.
It means that the electric guitar
has been recorded directly to the audio interface
exactly like when you plug a real electric guitar into it.
In this way you can add your favorite amp simulator
such as NI Guitar Rig or Amplitube
and shape the sound as you wish.
DirectGuitar 2.1 allows you to create an infinite
number of guitar sounds.
It is available for download or in two DVDs.
5 position pickup selector
Each selector is 1.2 Gb and about 750
samples at 24Bit 96Khz,
full sustain, natural decay (no loops),
3 velocity layers, round robin
for alternate picking.
It means that if you hit a key repeatedly
you can hear two different samples,
upstroke and downstroke pick
instead of that typical unnatural sound
coming from the same sample.
DirectGuitar 2.1 has everything you need
for creating a real guitar track.
Key switches:
slides, palm mute,
pinch harmonics, tapping, trills,
octave chords, unison bends, harmonics.
Release notes, fret noises, hand noises,
pick noises, strum noises, cable noises, finger noises.
12 articulations:
Bridge, mid-bridge, mid, mid-neck,
neck, jazz, strum, slap hand, arpeggio,
inspiring chords, Mute M+N, mute M+B
Install Notes:
1. Unpack
2. Try
3. Buy the stuff if you like it and use it
Price: $119 - €76
Download: (only for Musician & Moderator Group)