UEBERSCHALL GROOVE SHADOW ELASTIK VIRTUAL INSTRUMENT (AU/RTAS/STANDALONE/VST)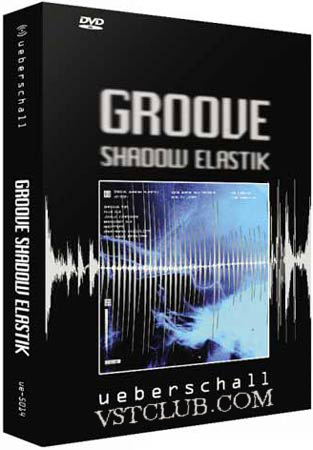 Ueberschall Elastik Series Introduces the Next Generation in Groove Revolution Technology. These FX Loops are developed to help add uniqueness and body to standard grooves and motifs. The Elements are derived from incidental sounds which occur in nature, electrical components, musical instruments and phrases, audio manipulation, machines and a variety of other sources. Stylized, compiled and sequenced for ease of insertion within a musical context. Check out the demo!
The Groove Shadow Elastik library comes with:
- Over 3.5GB of brand new content!
- Over 400 Groove Shadows split into 4 frequency parts = 1600 totally new FX loops
- Oover 4000 single sound FX
- User and DAW friendly Elastik Audio Engine
The Groove Shadow Elastik library is a perfect tool for:
- Club DJs
- Broadcast DJs
- Film & Soundtrack Producers
- Game-audio Specialists
- Jingle Composers
- Animators
About the Elastik Loop Player Virtual Instrument (Included)
Groove Shadow Elastik includes Ueberschall's new Elastik loop player, which includes features such as:
- High Speed Time stretching and Pitch Shifting
- Innovative ''Loopeye'' for fast loop variations
- All parameters are Midi Controllable
- Multiple Content Management
- Each product is separately installable
- Mapping Tools (Automatic Slice- & Chromatic-map)
- Save audio of original and modified samples
- Create your own User Presets
- Filter with the ''Kill Function'' (-72db)
- Adaptable to tempos from 10 to 480 BPM
- Reduced-content installation possible
Groove Shadow Elastik - System Requirements (Mac)
- OS X 10.3, 512 MB RAM minimum
- G4 500 MHz minimum
- 2.5 GB free hard disk space
- RTAS (Requires Pro Tools 6.4 or later)
- Audio Units
- Standalone
- VST
Groove Shadow Elastik - System Requirements (PC)
- Windows 98SE, XP, 512 MB RAM minimum
- Pentium 800 MHz minimum
- 2.5 GB free hard disk space
- RTAS (Requires Pro Tools 6.4 or later)
- Standalone
- VST
NFO:
HERE
DOWNLOAD:
http://vstclub.com/forum/28-7266-1
Download: (only for Musician & Moderator Group)